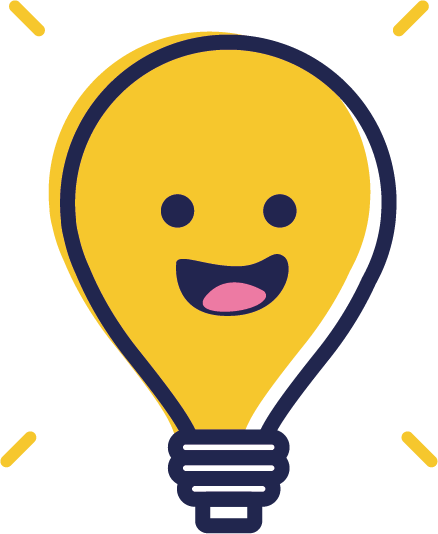 Our solutions
Discover our ecosystem build on different solutions: surveys and activations.
Happiness Agency gives you the opportunity to take care of your employees. You can therefore adopt a global approach in order to balance your budget between studies and action plans. Our solutions allow the development of a strong engagement and also boost collective thinking.
Our surveys are customizable and adapt perfectly to your reality and needs. We are with you, building your forms based on the catalog of questions that we developed with a work psychologist.
Based on your needs and problematic, you can choose a one time survey with BIG SURVE, or a  recurrent one with LIL PULSE.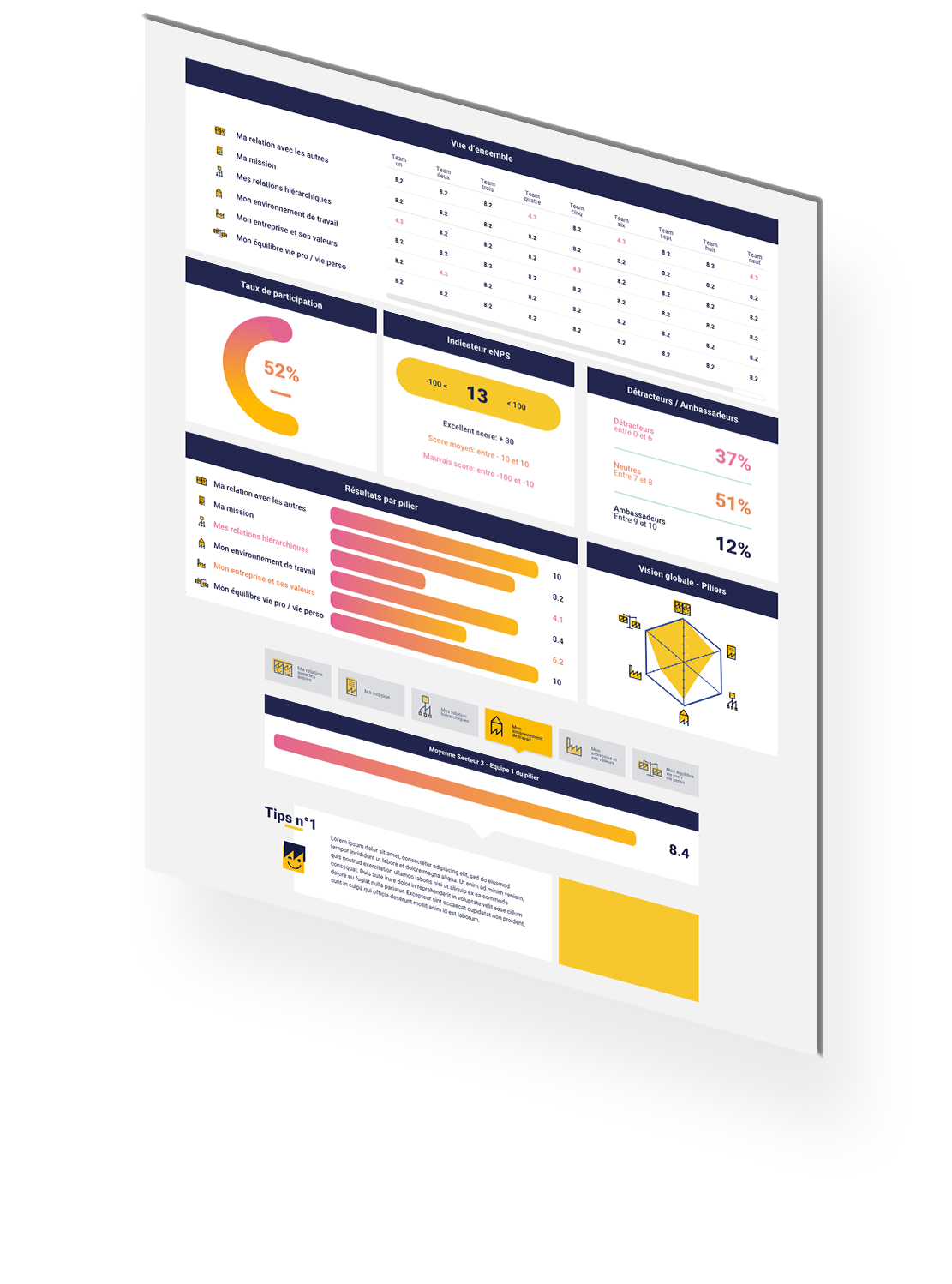 BIG SURVE : a very complete punctual survey
Our employee survey « BIG SURVE » allows you to obtain in a few weeks your eNPS (employee Net Promoter Score) and the 6 employee engagement factors: my relationship with others, my mission, my hierarchical relationships, my work environment, my company values, my pro/perso life balance.
We are with you in the construction of your survey, trying to ask the right questions following your problematics and questionings. You have the complete liberty on how many questions you want to ask and what kind of question: gradual, open, multiple choice, yes/no, …
Our team then administrate the survey and guarantees complete anonymity and security.
The anonymous results are then presented to you with our recommendations. You have the liberty of activate or not the action plan that we will propose to you, with your internal ressources or our partners.
Why BIG SURVE? Complete + Digital + Secure + Good-value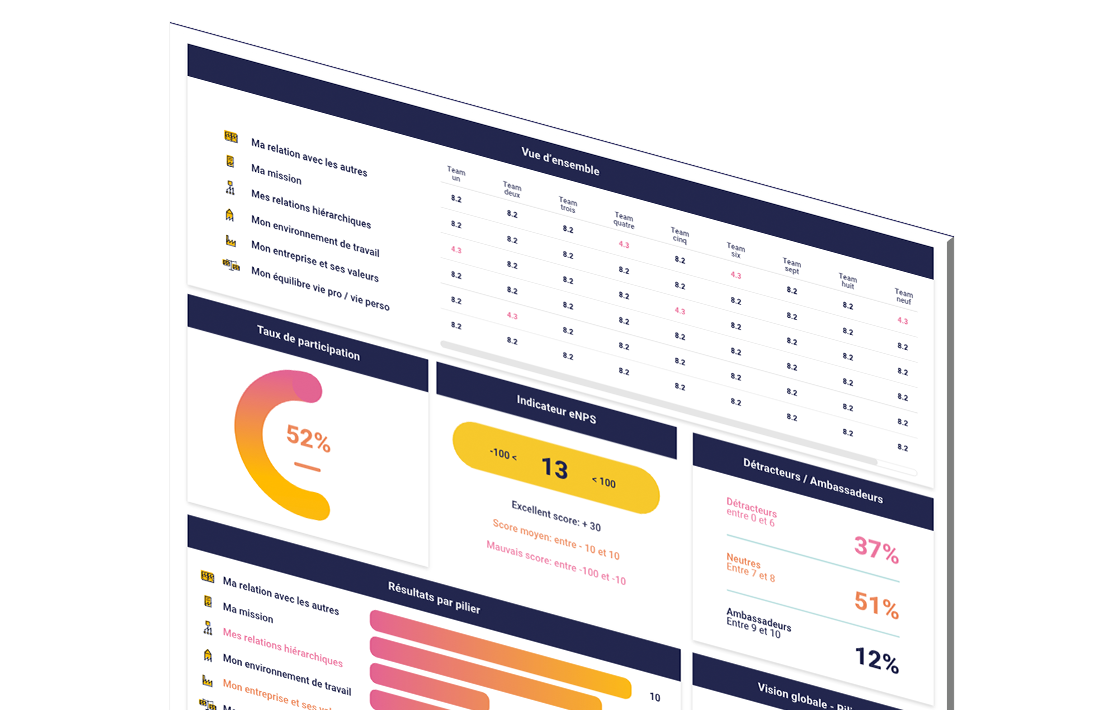 LIL PULSE : a recurrent survey to take you team's pulse.
Our employee survey « LIL PULSE »  allows you to obtain each week your team's weather.
You give them a voice and show them that their opinion matters. Your managers are accompanied because you give them the tools toto have in a few minutes the answer to their questions and check the level of well-beeing of their team.
This constructive and benevolent exchange is the key to a better communication and therefor allows you to share the good points and the one that need improvement.
As a result, you set up a continuous improvement process. Your employees are then more connected than ever, more powerful and you can follow anonymously their evolution.
You can access the surveys and results on a webpage, or directly on our App. You decide.
Why LIL PULSE? Applicative + Recurrent + Continuous improvement + Team cohesion
Do you want to compare your quality of working life to all our users and follow your metrics over time?
Activations:
a complete accompaniment answering your problematics
The Happiness Agency team has the capacity to deploy quickly and rigorously actions that they recommended. They can be of different kind: events, strategic, organizational, coaching or formations, …Our actions are based on our team's skills but also our privileged partners with whom we work.
Events & Team Building
In person or remotely, this is all about finding ideas that allow your team to share and communicate differently in order to reinforce.
From traditional Holiday supper to « Praise wall », the possibilities are multiple and sometimes costs very few.
« Think out of the box » as we would say.
Coaching & Training
From team coaching to managers formation, we propose you a whole panel of turn-key solutions to develop your employee's soft skills.
The social and emotional intelligence is one of the key success factor of your company and we will help you to generalize it.
Accompagner une transformation
A moving, a digitalization of the work, a reorganization or generalization of working from home, all these factors have a strong impact on your employees. Monitor these projects to insure a good comprehension and team adhesion.
Develop company culture and sense of belonging
Your culture, your values, it's your DNA. Your employees should adhere to it, but in order to achieve that, your process should be sincere and shared. Get yourself the tools to evaluate and adapt your communication in all situations.
Reinforce team's cohesion
The benefits of close-knit, caring teams are well documented. You might as well succeed in installing this social climate within your organization. Accompany your employees and managers in a continuous improvement process.
Reduce turnover and absenteeism
Repeated departures and increasing absences are strong signals that you need to address. Free up the dialogue to identify and correct the "pain points".
Follow teams on the field or working remotely
"Out of sight, out of mind"... Make sure you never hear that from your remote employees. Keep in touch and involve your teams to make them part of the group.
Improve the QWL (Quality of Life at Work)
Work in a fun and caring environment is more important today than a salary benefit. Do the groundwork and don't just buy a ping-pong table.
Prevent psychosocial risks and burn-out
Take care of the mental, physical and social health of your employees. No one is protected and you must prevent these conditions by regularly surveying your teams.
They said it